it's been 8 days since we picked up our goaties. It's been 8 days since two of our goaties found the taste to freedom across 10 acres. It's been 7 days since the rest of the herd joined their sisters at large in roaming around the entire property.

I've learned a few lessons in 8 long days:

The plans you usually have are just that...plans. They are not set in stone and they are probably not what is going to happen.
Go with your gut feeling. I had a gut feeling when we first set up the net fencing that it wasn't right. I have to learn to go with those gut instincts in the future.
What you think is failure, really isn't. While I thought that the goaties roaming around our entire property was an epic failure, it really wasn't. It just wasn't in the picture, perfect plan we had. We do have our 6 goats. They have been sighted every day and they are doing well. That's NOT a failure.
The old saying, "accept, adapt and overcome" went through my mind more than once this week. While I wasn't able to be at the farm until today, I had a lot of information given to me from Mark and from the trail cam pictures, and I was able to have some fresh ideas available when I was out there today.
Goaties really are food driven animals!

I was anxious to do my own head count this morning. It took a while before I was able to spot all the goaties, but found them jumping and playing in the early morning sunshine in the south meadow. 6 head. I felt better. As we went about our chores in the south meadow this morning, Mark and I both heard a noise we had yet to hear...a bleat. It didn't really register for a second, then we heard it again. I thought we had bought silent goats. Even when Mark was taking them off the trailer, they didn't make a peep. I went off in search of them to see what was going on. They were hanging out eating tree leaves on the west line. Everyone was fine. I imagine some goat was dragging behind and they were calling out to her.

We spotted them one last time for the day around 12:00. They were on the ridge and took off into the dense brush after spotting us. Our afternoon job consisted of deploying one of the net fences in kind of an L shape. Our ultimate plan is to get them contained in the moss meadow area - where they are currently eating at the feed station - before the first doe drops her kids. With the first net deployed we will continue to watch the trail cam, food and water levels and study the times they are around that area and then we will be able to set forth the next part of our plan. We shall see.//tr

Now, roll that beautiful goat footage:
Powered by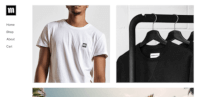 Create your own unique website with customizable templates.